I am moving in a WEEK and I need this stuff GONE. If you don't like the price, MAKE ME AN OFFER. I want this stuff GONE!! The more you buy the more of a discount I'll give you. Prices do not include shipping - shipping will typically be about $5 for lots without shoes - shoe lots will be higher shipping, depending on each shoe (some are heavier than others.) I will quote you a price with shipping depending on what you're interested in.



Lightweight suit-style jacket with contrast piping in cream and black. This isn't exactly a suit jacket, as it's not structured and doesn't close in the front. It's marked L but fits tightly, it would be more boxy and loose on an M. New/never worn, $15 OBO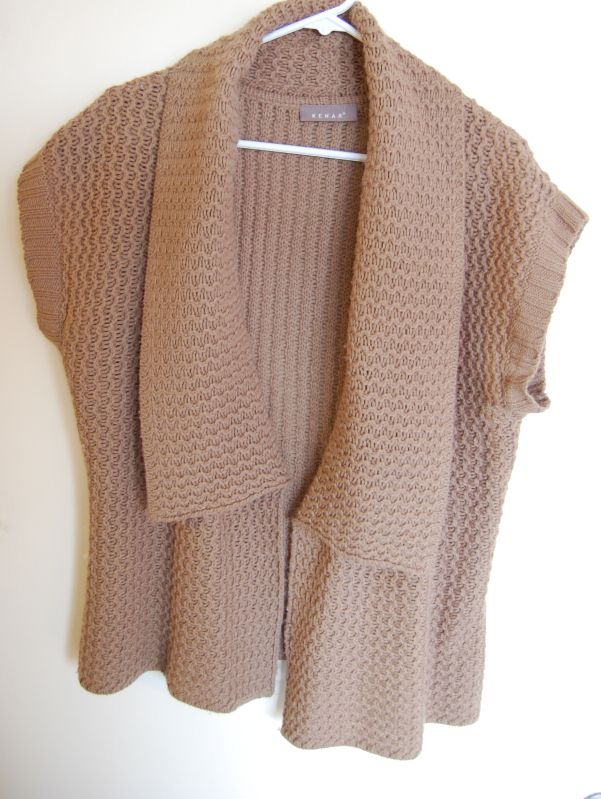 Brown wool blend sweater vest with large shawl collar. Large, in perfect condition. $5



Rose colored tank top with bow and lace flower print. Size L, perfect condition/worn once. $5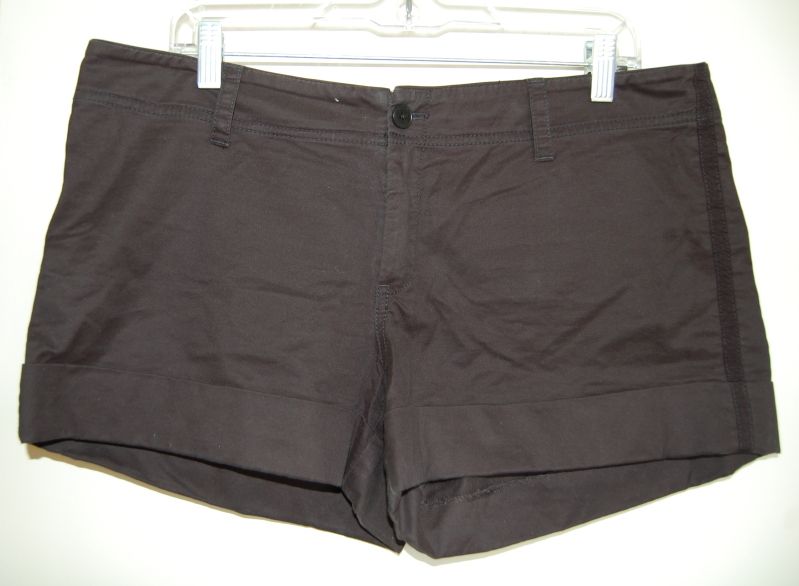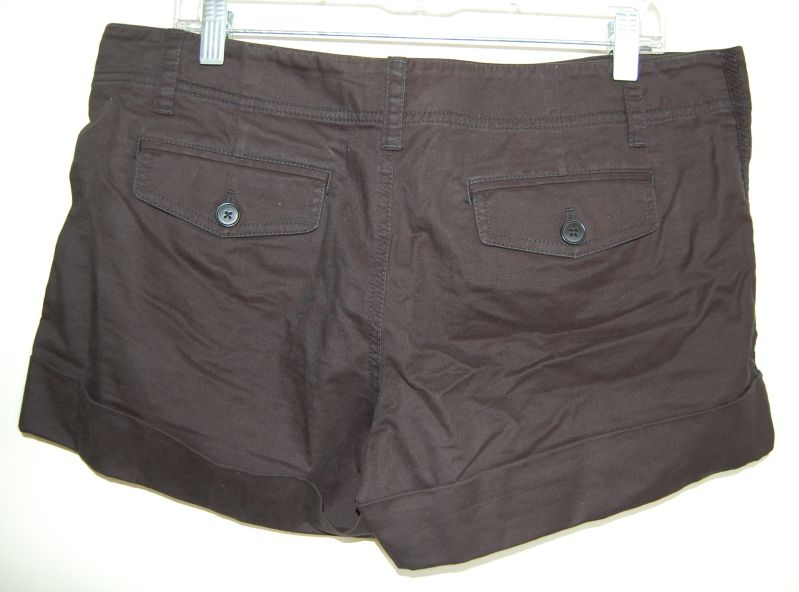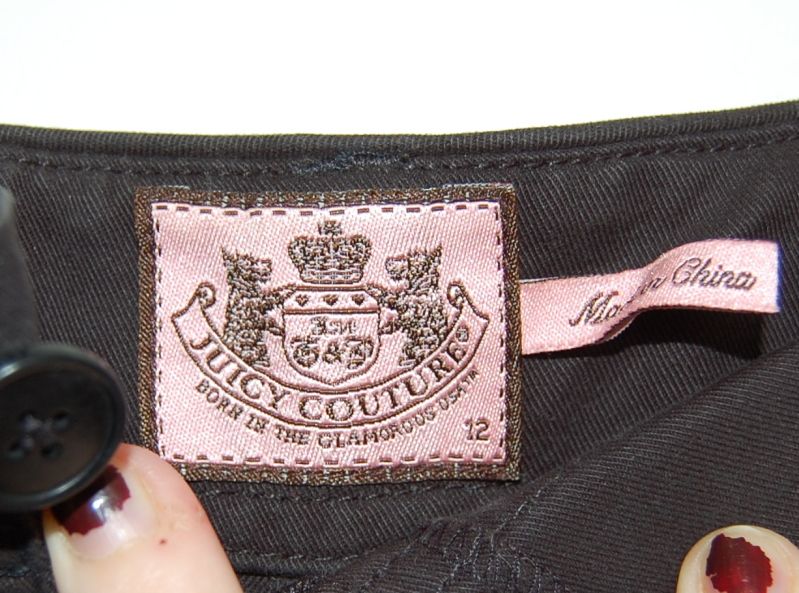 Juicy Couture tailored cuffed black shorts with ribbon detail on side seam. Perfect condition, never worn. Size 12. $15 OBO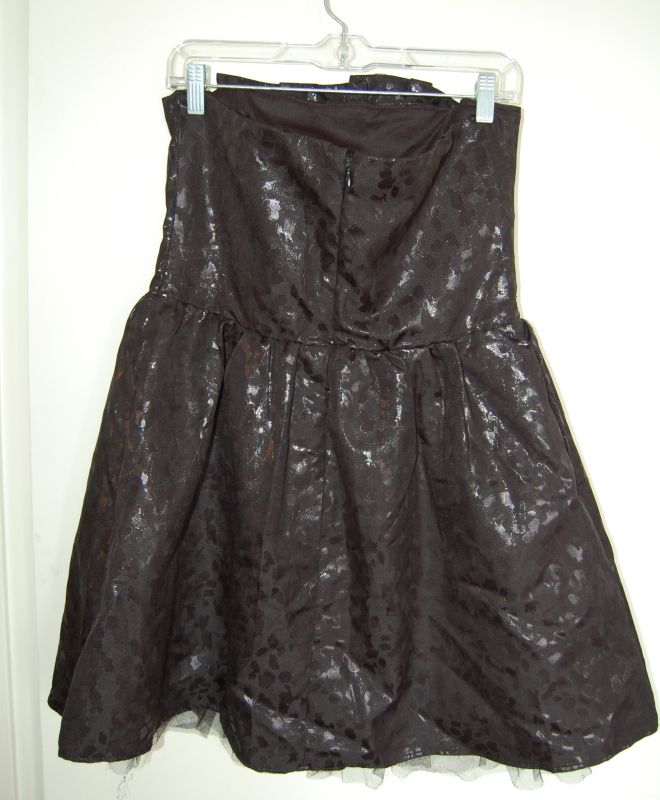 Charlotte Russe party dress with black leopard pattern, pleated bust, boned corset-style bodice, back zipper and tulle. Worn once. Size 12. $15 OBO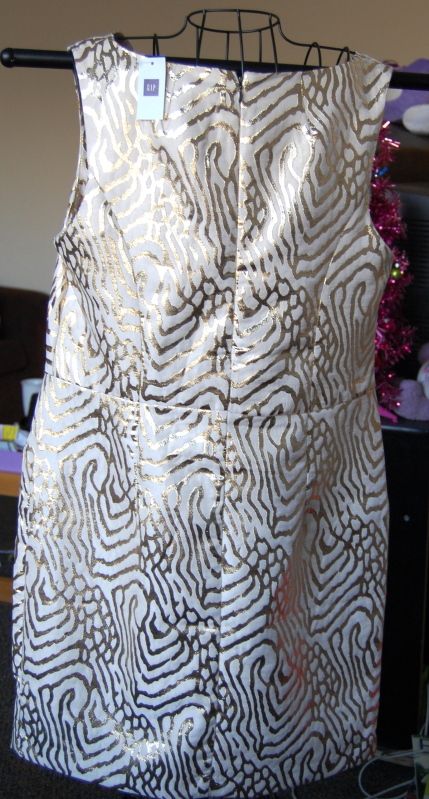 Brand new Gap dress with gold and cream pattern. Picture of tag here and here. Never worn, extremely cute. Size 10. $25 OBO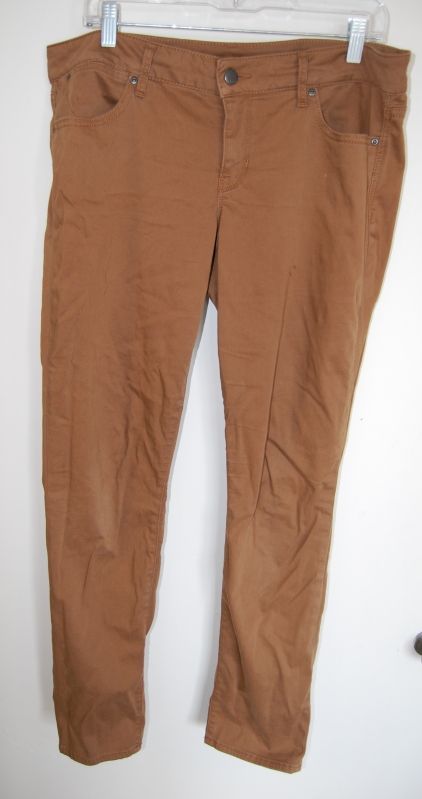 Gap 1969 Always Skinny pants in tan, worn a few times but in great condition. Size 32/14. Retails $70+ asking $15 OBO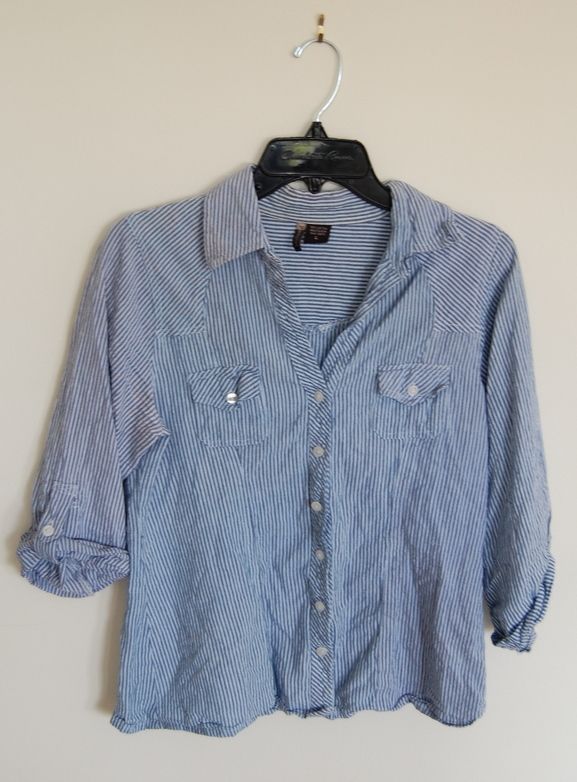 Cotton button-down blue and white shirt. Size M/L (marked L, but very tight). $6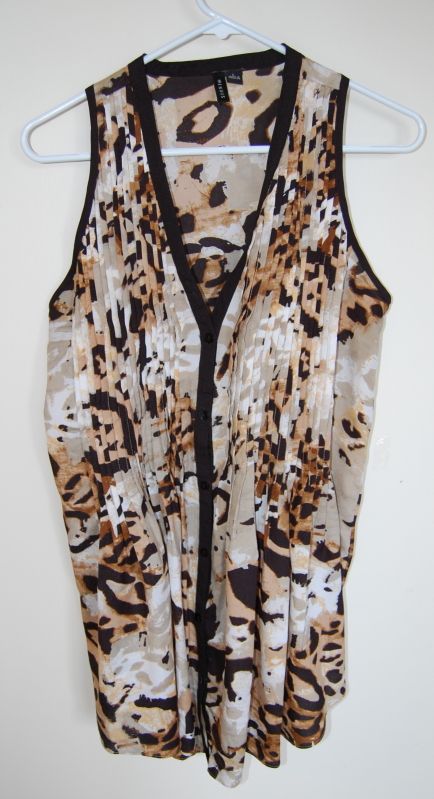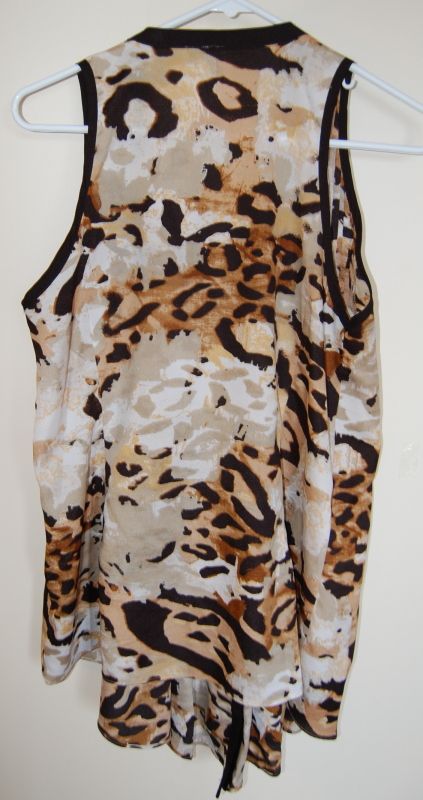 Animal print swingy tank top with black trim, longer in the front than in the back. Perfect condition, size L. $6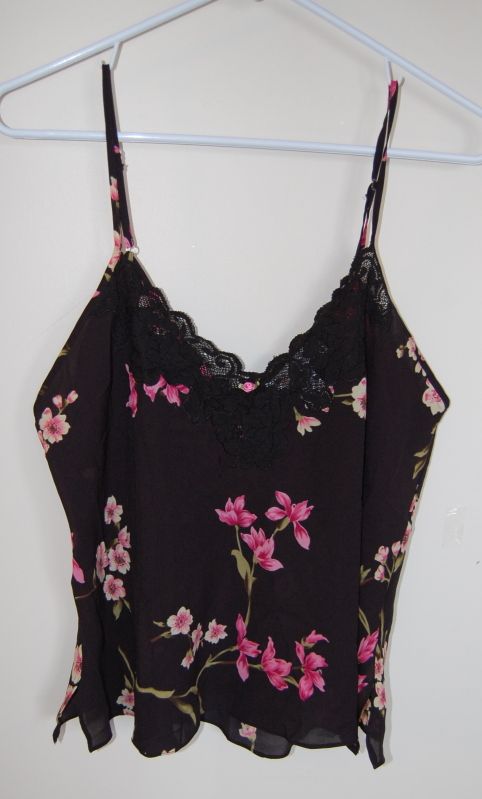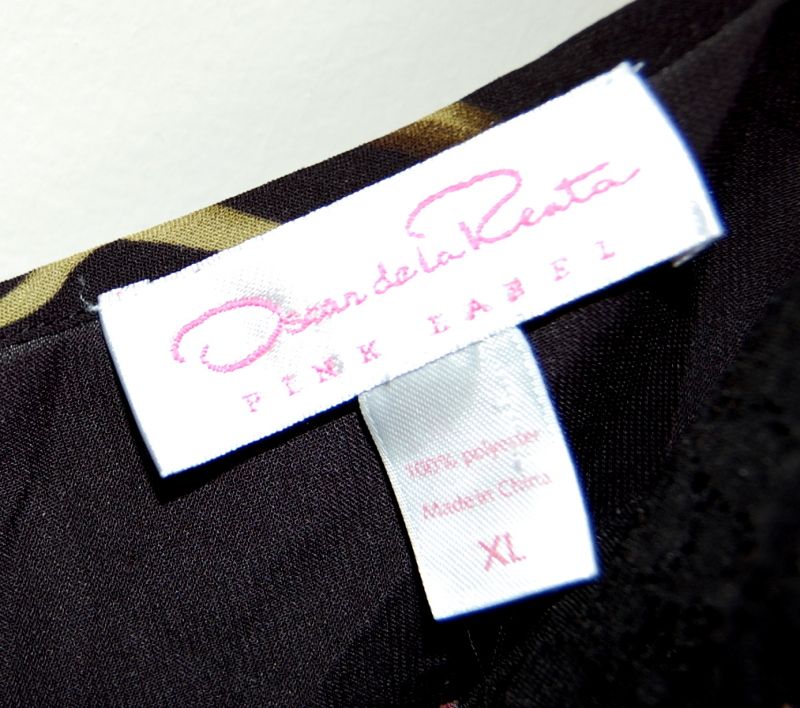 Oscar de la Renta sleepwear top with lace and flowers. Size XL. $10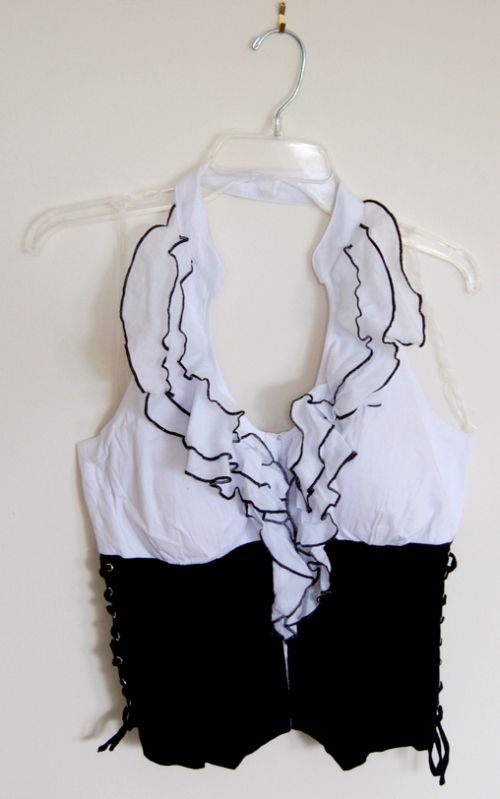 Clubbing shirt, white ruffle halter top with black boned corset bodice. Size L. Never worn. $10 OBO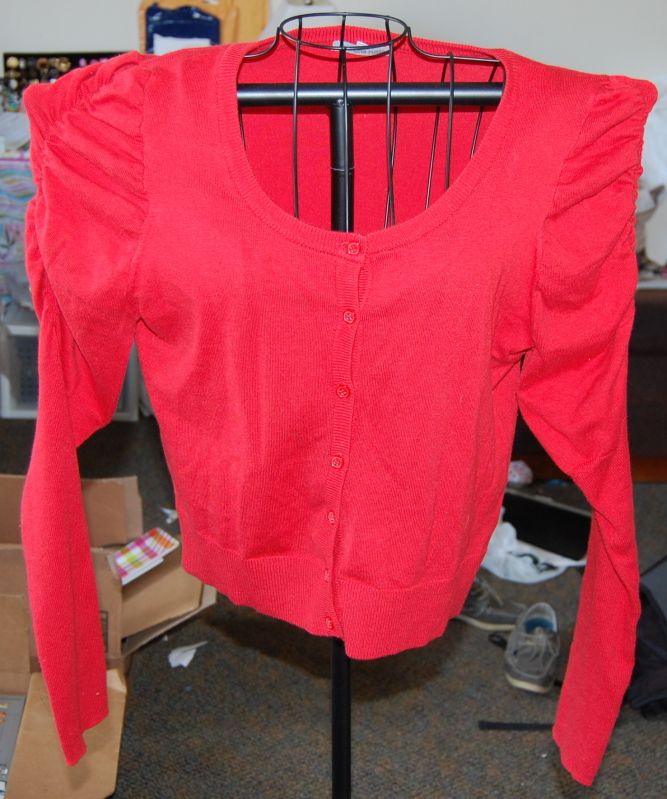 Red short cardigan with ruched sleeves. Size L from Charlotte Russe. Actual color here. Never worn. $10 OBO


Pleated navy tank top with ribbon bow. Freehanging, size L but would fit larger. Excellent condition. $6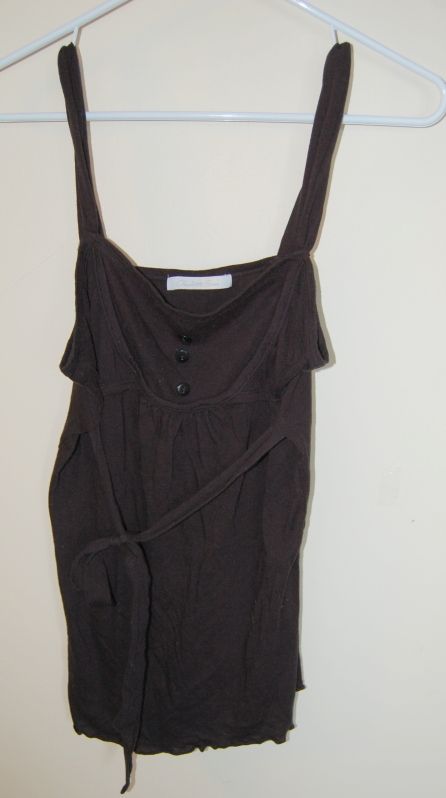 Black tank top with 3 buttons, yoke front, empire waist and tie. Size L. $4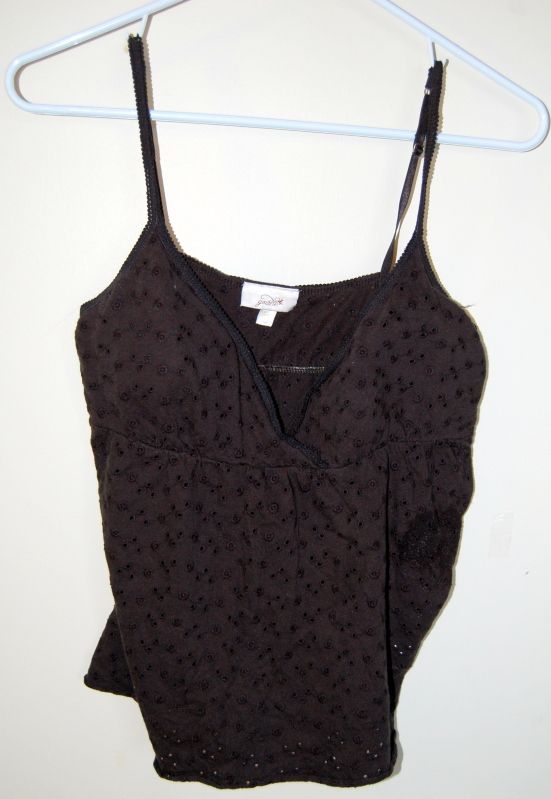 Black eyelet lace tank top with padded cups. Size M. $5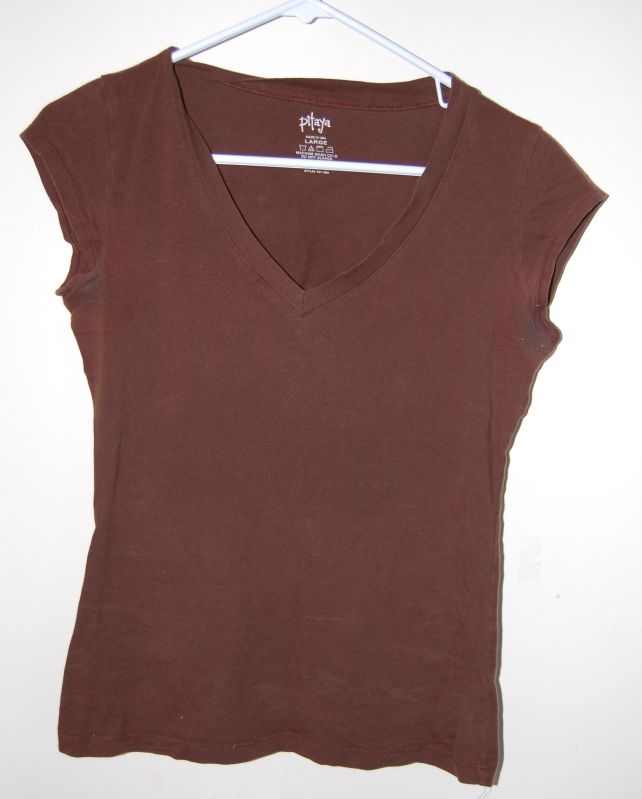 Pitaya plain brown v-neck tee. Size L. Worn a few times, some stains on underarms. $2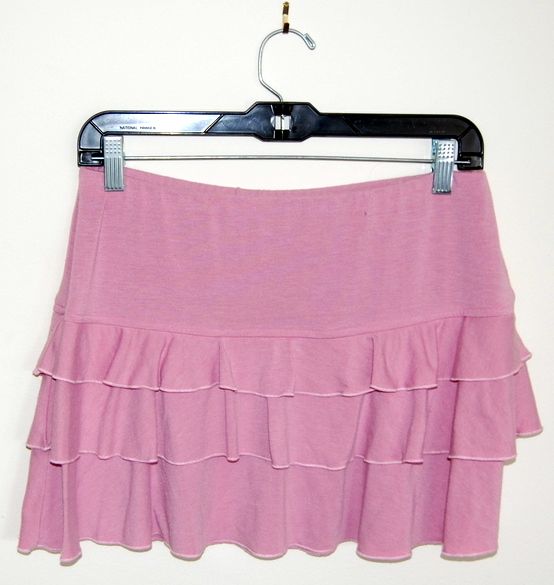 Pink tiered skirt, size L $2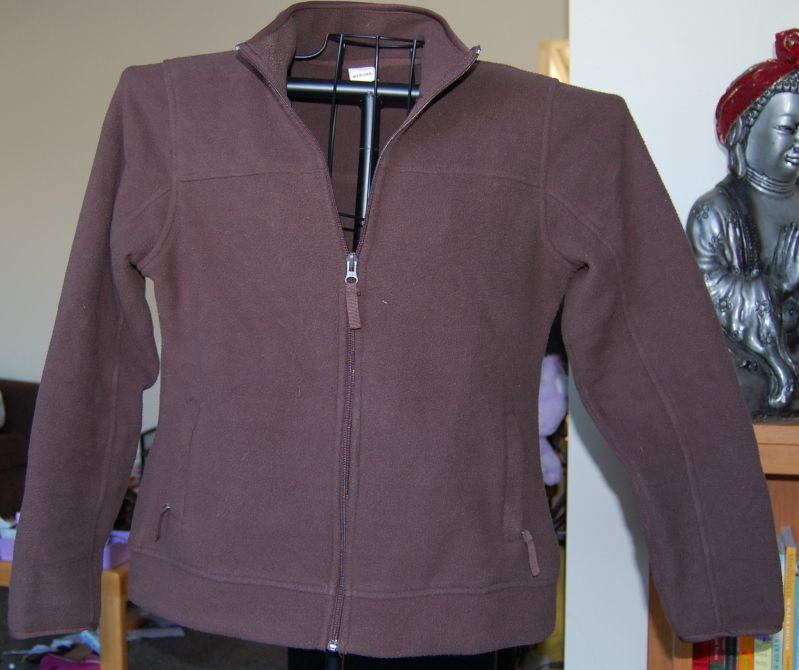 Comfy fleece zip up jacket size M. Never worn. $6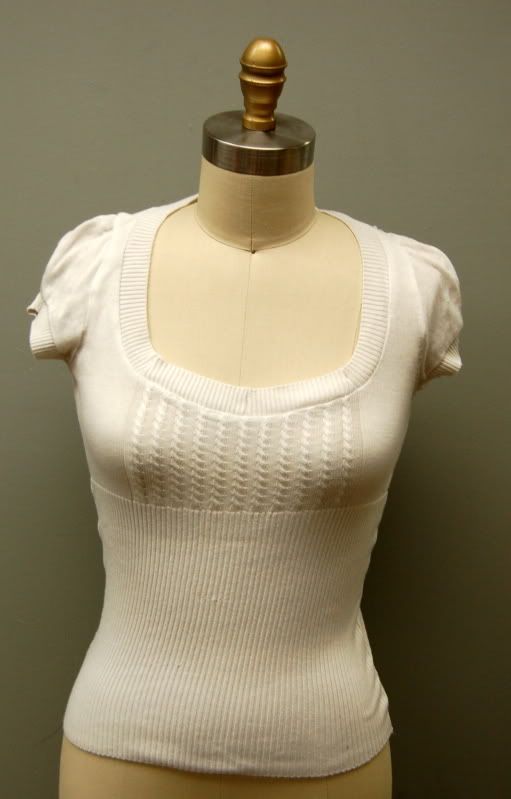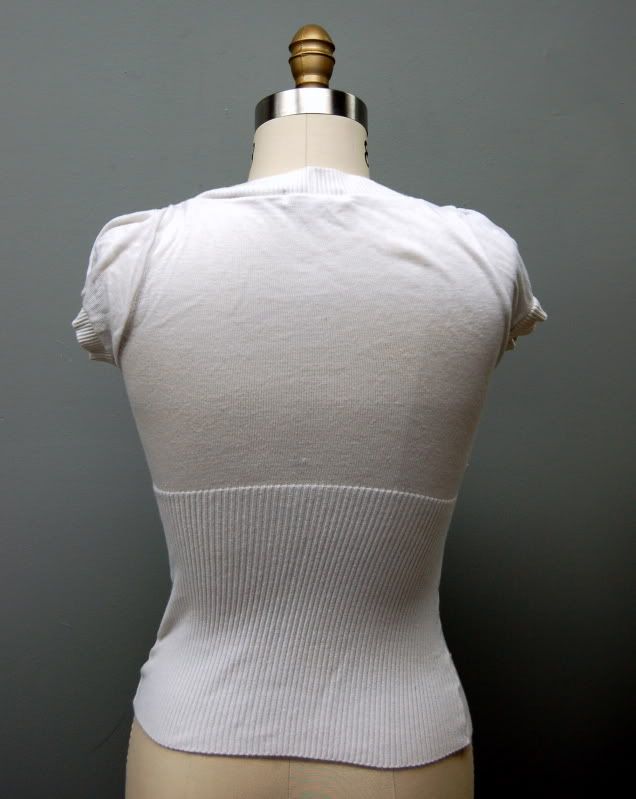 White knit top size M $6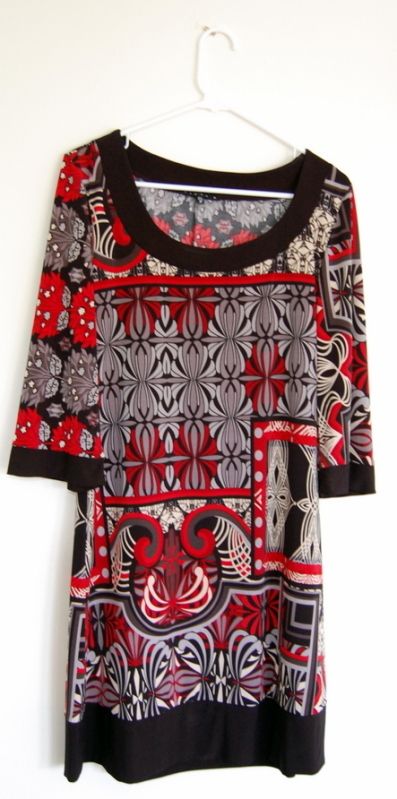 Black, red and white patterned scoop-neck dress. Comfy, stretchy. Size L. Never worn. $5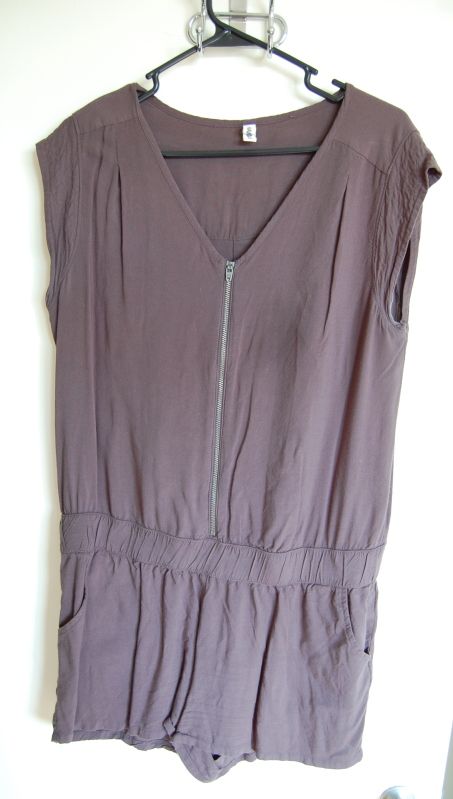 V-Neck zip-up Hang Ten romper. This romper is super cute and easy to just throw on and go. Worn once. Size L. $10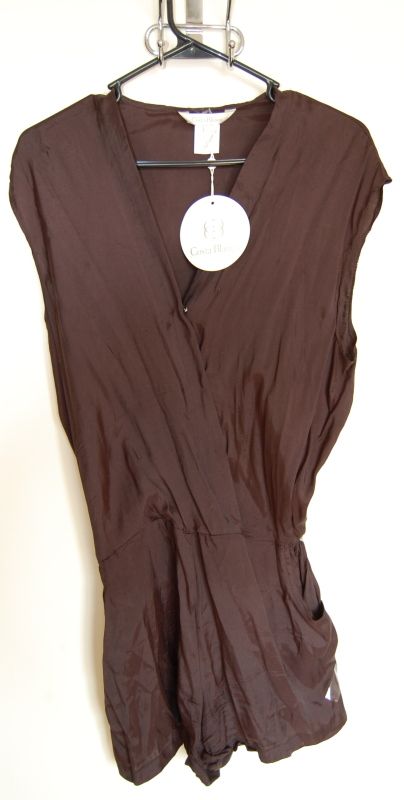 Costa Blanca black romper with tags still on. I know both of those pics are kind of crappy but I promise it's super cute on an actual person! It's wrinkly but just needs a good steam or iron. Material is silky rayon/viscose. Size L. $8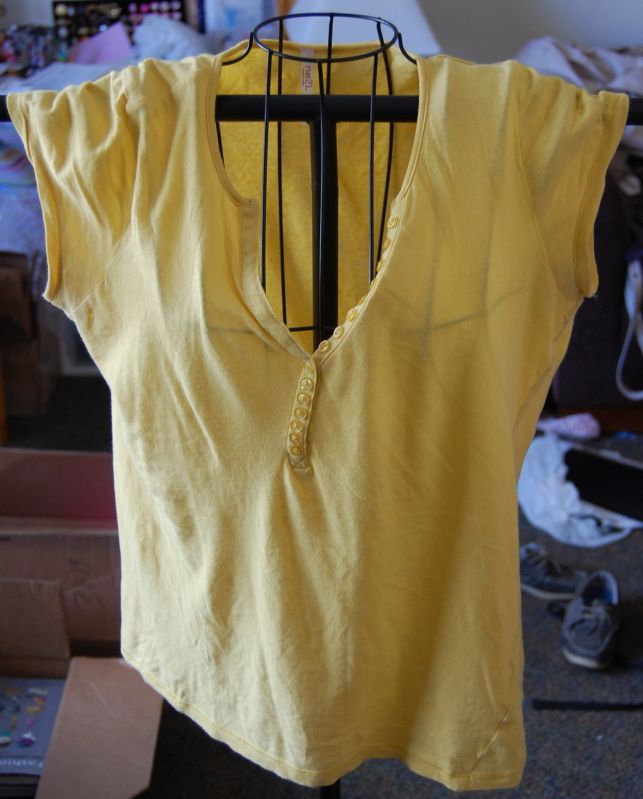 Bright yellow stretchy Henley v-neck T. Size L. Excellent condition. $2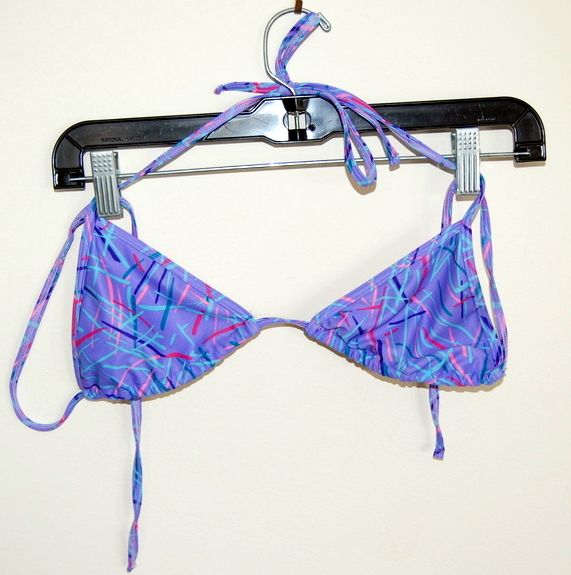 American Apparel bikini top, size "L" (more like a M or B-cups, max). $3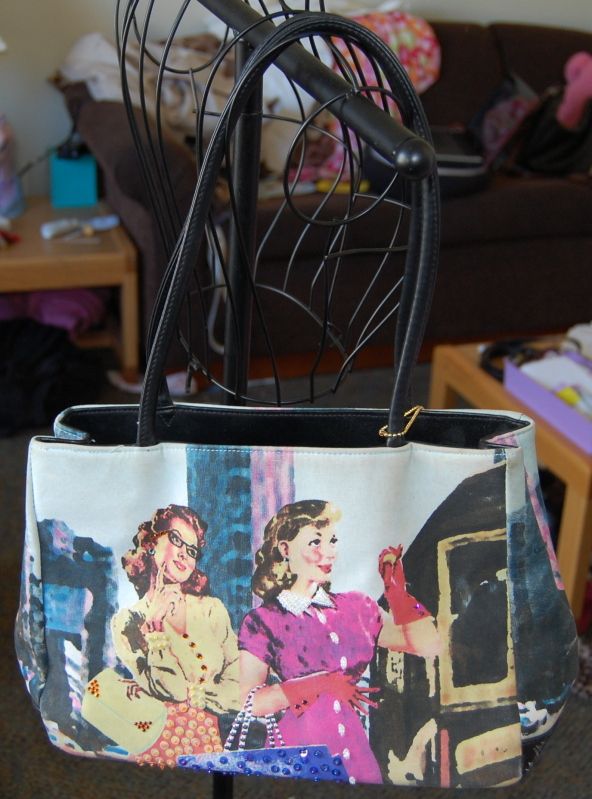 Cute retro style purse! Not sure if this comes across in the photo, but the jewelry, buttons and purses on the girls are actually studded with real gemstones and pearls. Great condition. Inside/Pockets pic $10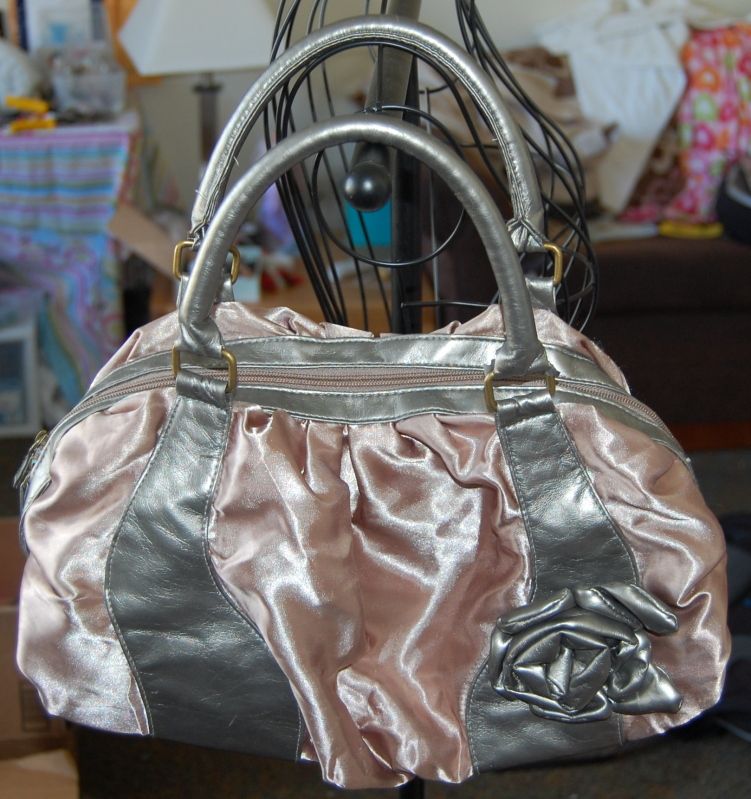 Satin taupe/grey purse with flower. This purse is very silky and makes a great evening bag. Inside/Pockets picture Excellent condition. $10

SHOES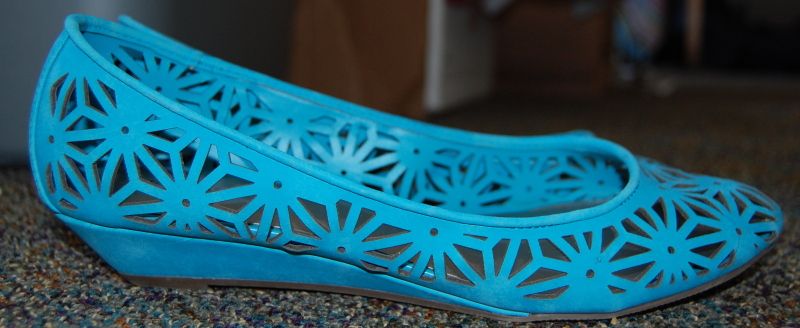 Super cute blue cut-out flats with small wedge heel! These shoes are insanely comfy, just a tiny bit too small for me :( They are PERFECT for spring!! Size 8.5-9. Never worn. Some damage from where the tag was stuck on them in the insole, but otherwise perfect condition. $12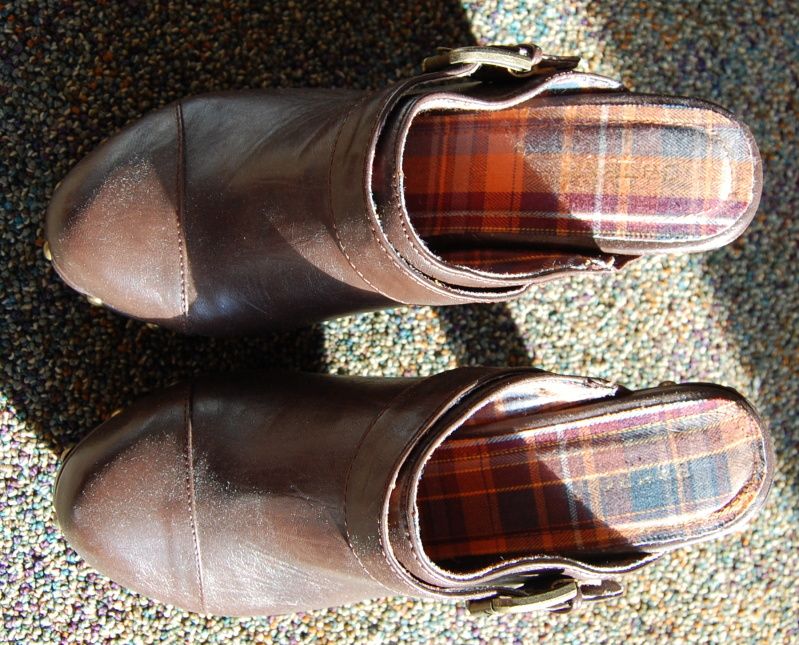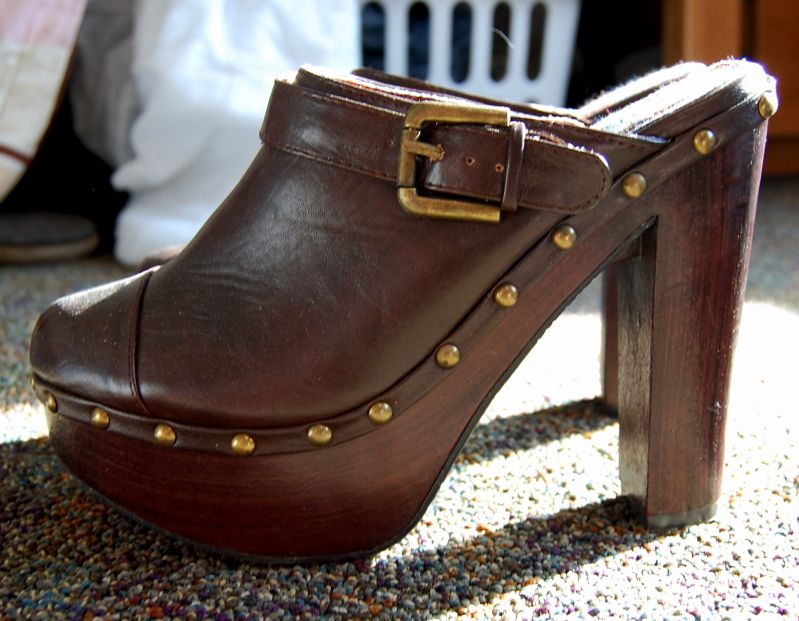 Bamboo clogs, super cute, in unworn condition. Size 9/10. $12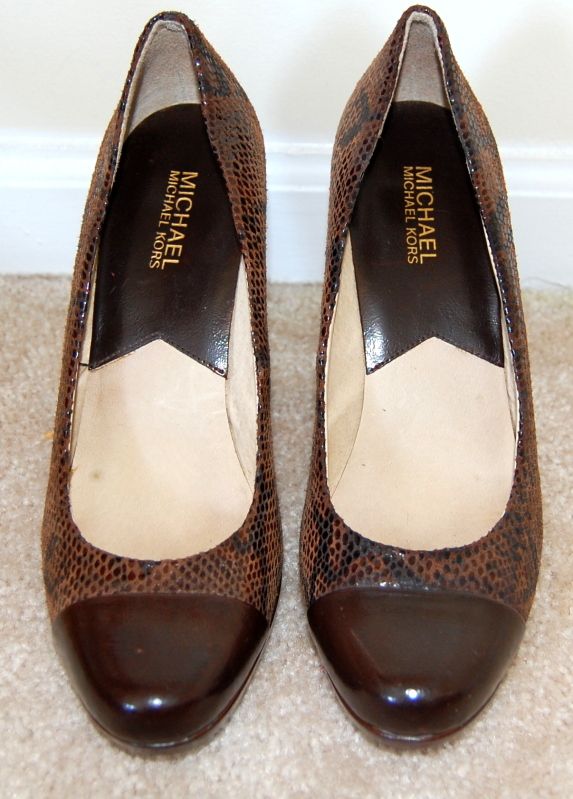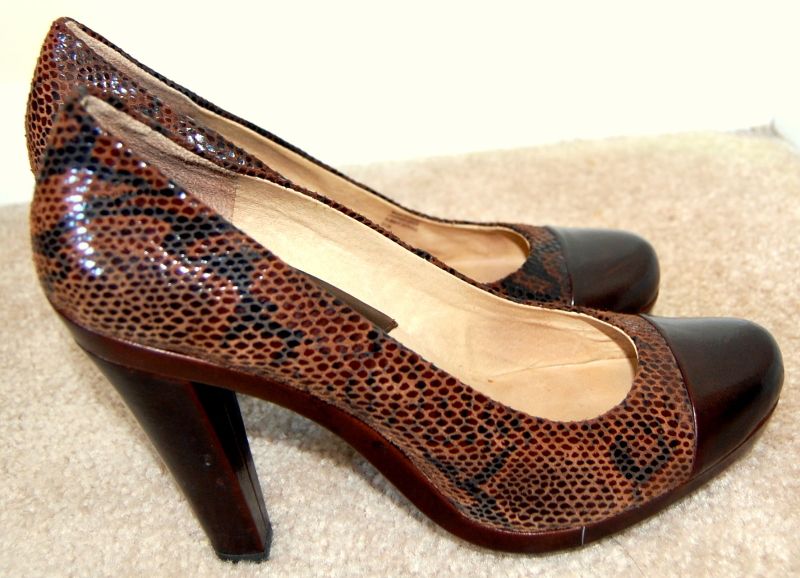 MICHAEL by Michael Kors wingtip snakeskin heels. 9/10. Perfect condition. $20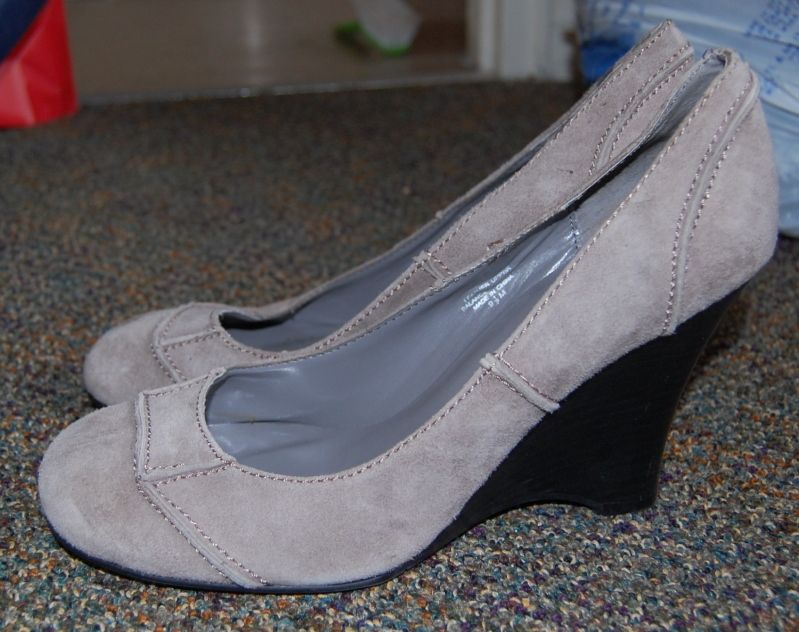 Fitzwell patchwork leather gray wedge heels. Never worn. Size 9.5 $10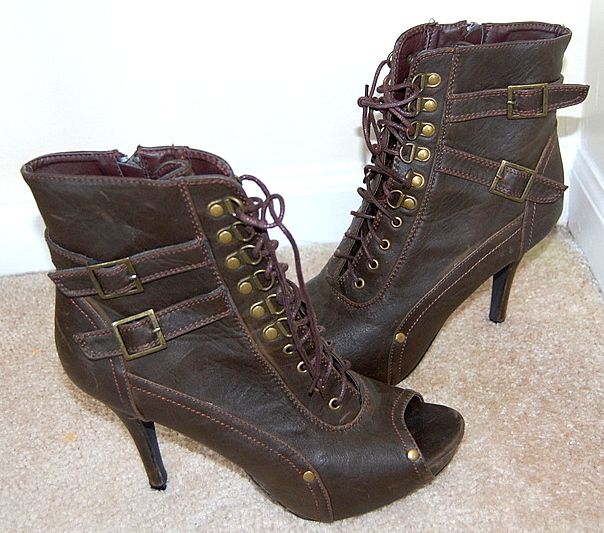 Charlotte Russe heeled peeptoe booties, chocolate brown. Size 9.5 $15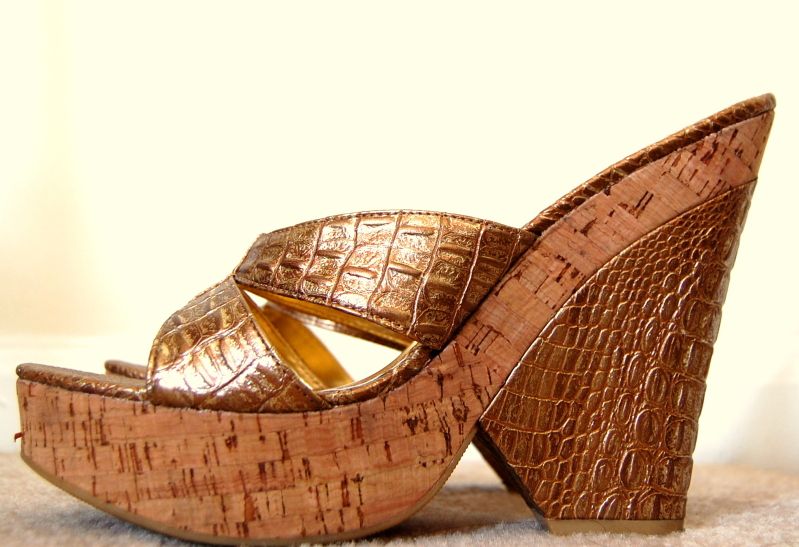 Chinese Laundry gold wedge heels with cork, perfect condition/never worn. Size 9/10. $25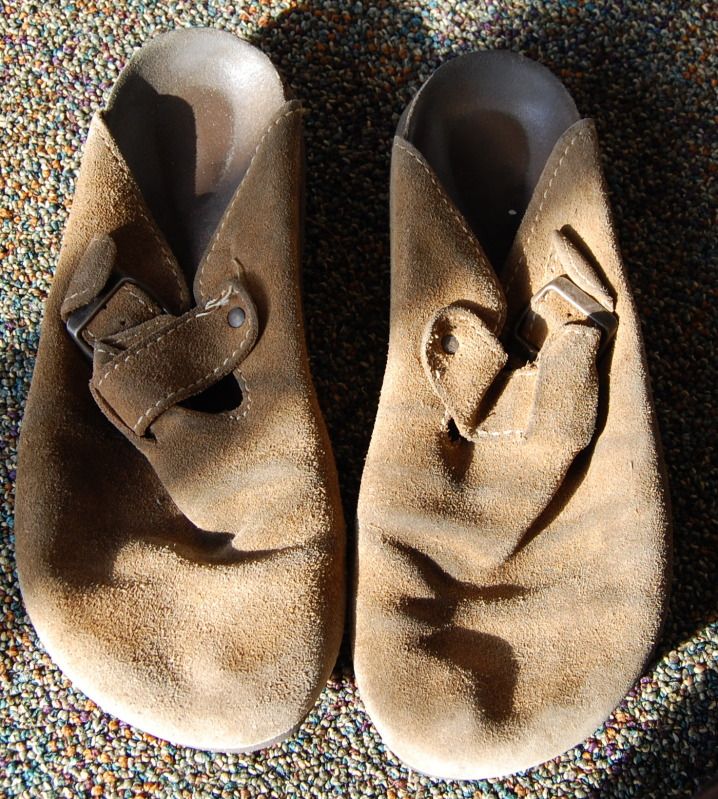 Faux Birkenstocks. Well-worn, but in good condition. Size 9/10. $2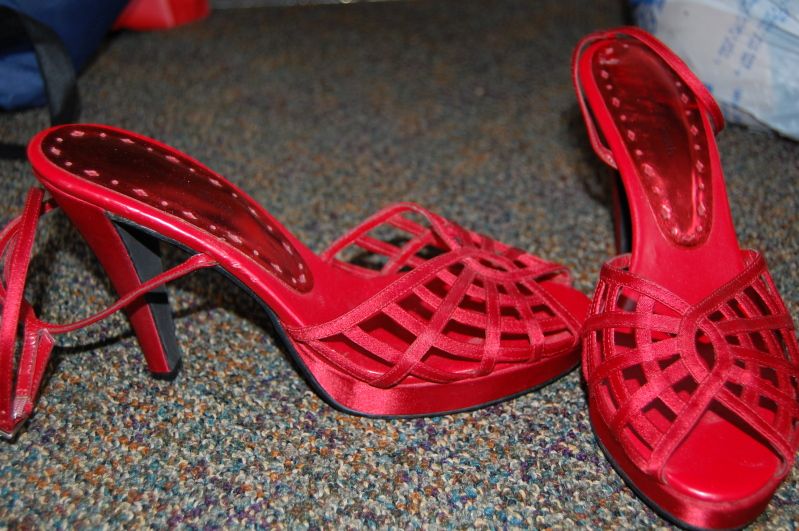 Satin red strappy shoes. Size 8.5. Excellent condition. $5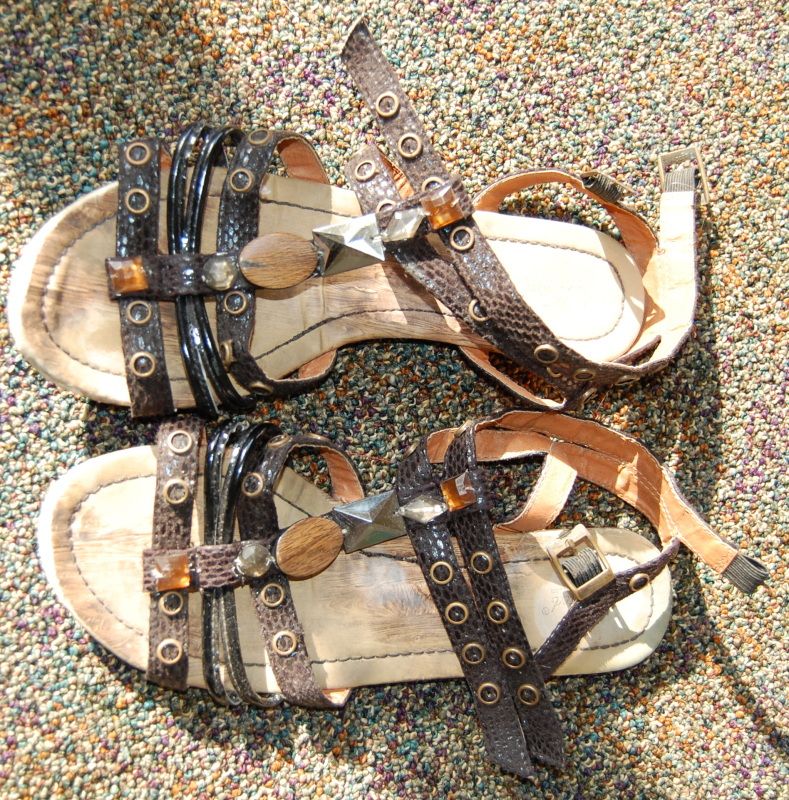 Strappy jeweled sandals. These sandals are a bit of a project - they are in great condition except that they are missing the square part of a buckle, and one jewel in the same place on each shoe. If you don't mind gluing on 2 jewels and finding a replacement buckle square, these are a great deal! Size 9.5. $3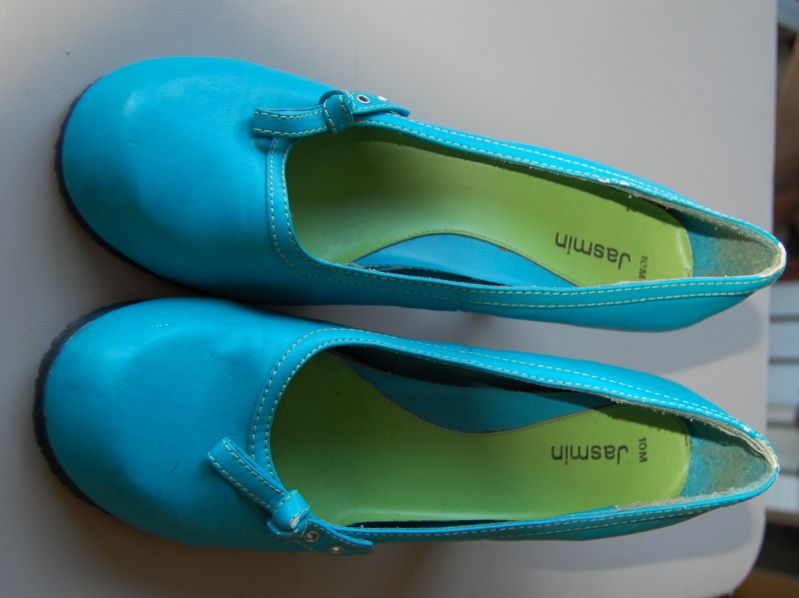 Bright blue pumps, size 10 but also fits 9.5. Great condition. $3


Charlotte Russe silver pointy flats, size 9. There is some scuffing on one side of the shoe pictured on the right. $3


Brown faux snakeskin flats, size 9.5. $2

MAKEUP. Take all of this off my hands for me, make me an offer for whatever you like. Take it all!

Pigments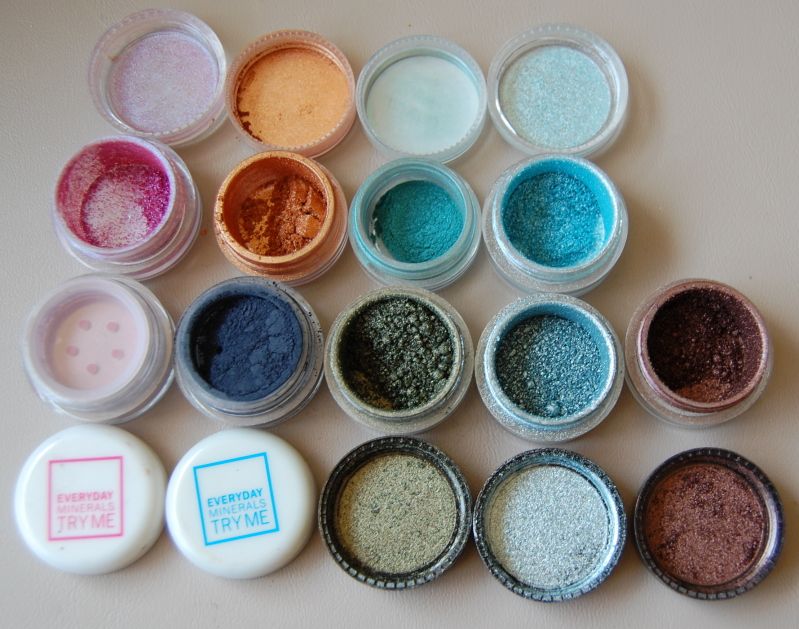 Misc. pigments: MAC, Everyday Minerals, Pink Quartz Minerals. Here is a close up
MAC Pink Pearl $.50
Pink Quartz Minerals Brogue $1
Pink Quartz Minerals Turquoise $1
MAC Mutiny $1
MAC Chocolate Brown $1
Everyday Minerals Love Letters (unopened) $2
Everyday Minerals Weeping Willow $2
MAC Night Light $2
MAC Azreal Blue $1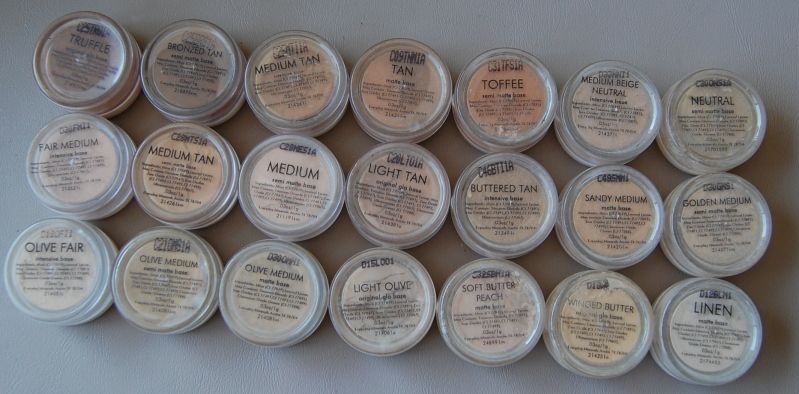 Everyday Minerals foundation powder samples. Most of these are unopened. The ones with a * are opened.
1. Truffle* - Bronzed Tan* - Medium Tan* - Tan* - Toffee - Medium Beige Neutral - Neutral*
2. Fair Medium* - Medium Tan* - Medium - Light Tan* - Buttered Tan* - Sandy Medium - Golden Medium*
3. Olive Fair - Olive Medium (semi-matte)* - Olive Medium (matte) - Light Olive* - Soft Butter Peach - Winged Butter- Linen
$1 each or all for $15!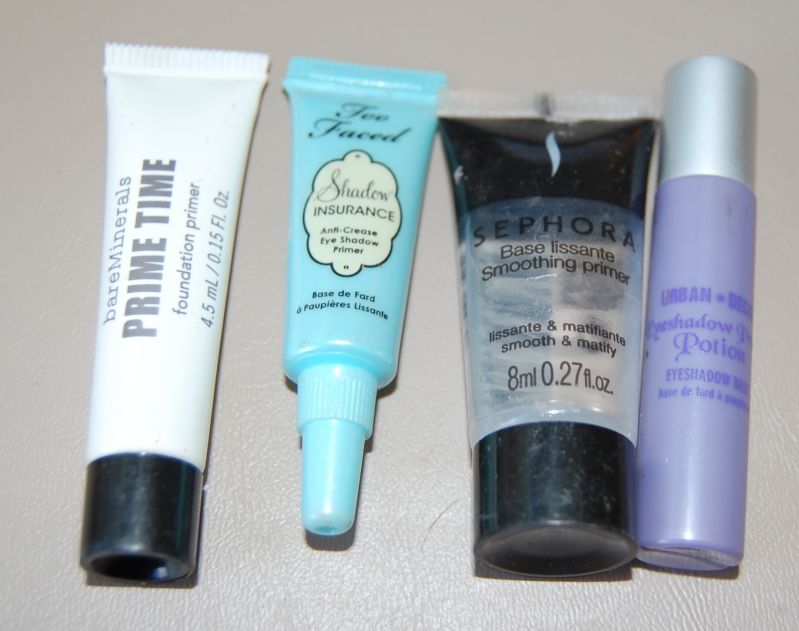 Primer Lot: Bare Minerals Prime Time, Too Faced Shadow Insurance, Sephora primer, Urban Decay Primer Potion, all in travel sizes. $2 each or lot for $5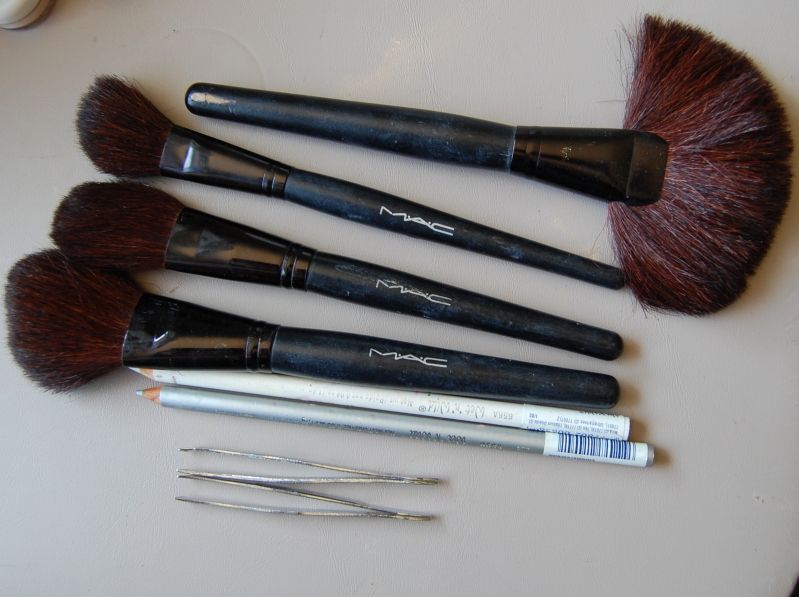 MAC knockoff brushes - large fan, 2 blush, 1 powder. $3 each
Wet N' Wild eyeliners: white, silver. $.50 each
Tweezers. $1 for both or $.50 each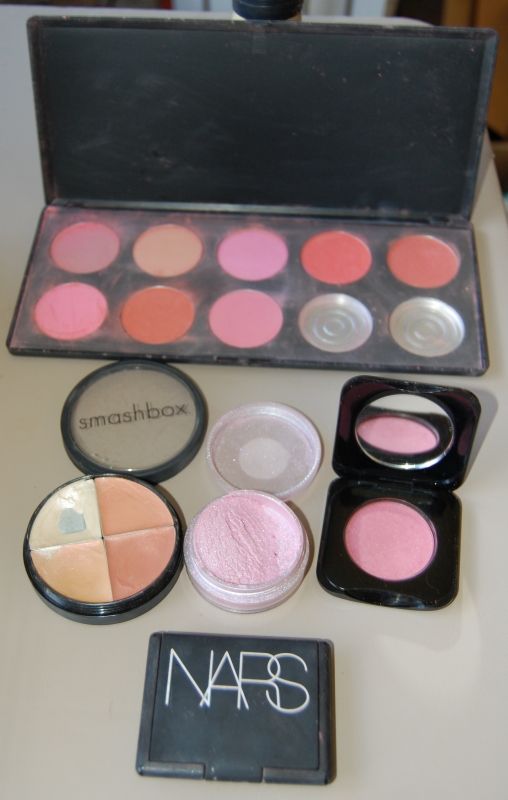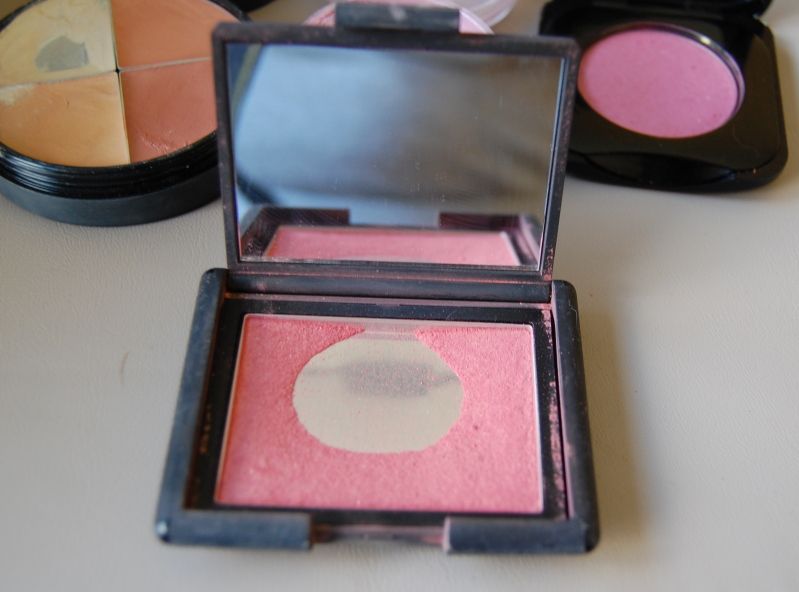 Blush lot. Take lot for $15.
Blush pallette with 2 depotted, $5
Smashbox highlight/bronze/blush quad, $3
Shimmery blush/highlight $1
single blush compact $1
Nars ORGASM, $8.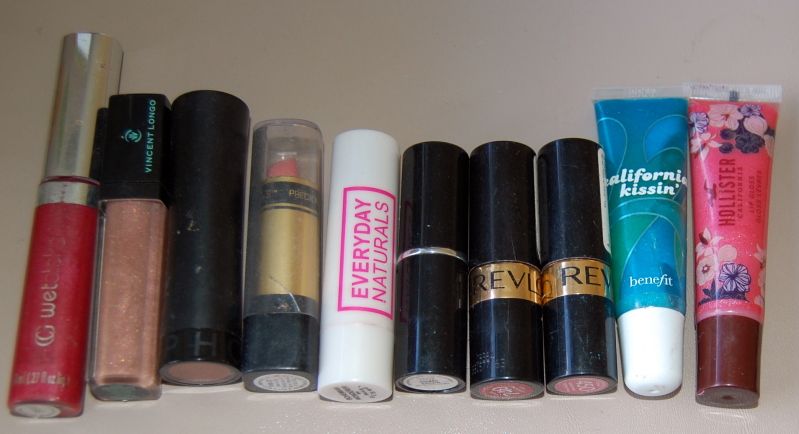 Lip lot. Gloss $1 each Lipstick $2 each or take lot for $12.
CG gloss
Vincent Longo gloss
Sephora lipstick
Wet N' Wild lipstick
Everyday Minerals lipstick
Lancome lipstick
Revlon lipstick
Benefit gloss (clear, slightly blue tinted to make your teeth look whiter)
Hollister gloss




$2 each or $10 for lot:
Lorac eyeshadow
NYX eyeshadow
Lorax eye shadow pigment (gold)
HIP pigment (green)
Cupcake Cult pigment (black)

Blue and Green eyeliner pencils $.50 each.
LORAC Pink sparkly eye pencil $2.
Vincent Longo white liquid eyeliner $2.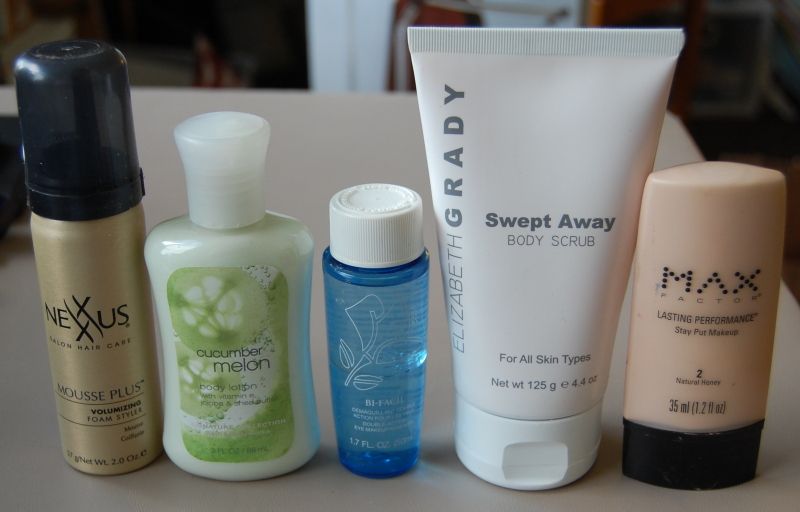 Nexxus foam volumizing mousse $2
B&BW Cucumber Melon lotion $2
Lancome makeup remover $2
Elizabeth Grady body scrub, about 75% left $2
Max Factor foundation in Natural Honey, 75% left $1


These are all 95% full at least.
Bath & Body Works Snow Kissed Berry shower gel, $5
Bath & Body Works Warm Vanilla Sugar shower gel, $5
Avon Coconut and Lemongrass body spray, $5
Aveeno Nourish & Moisturize shampoo, $5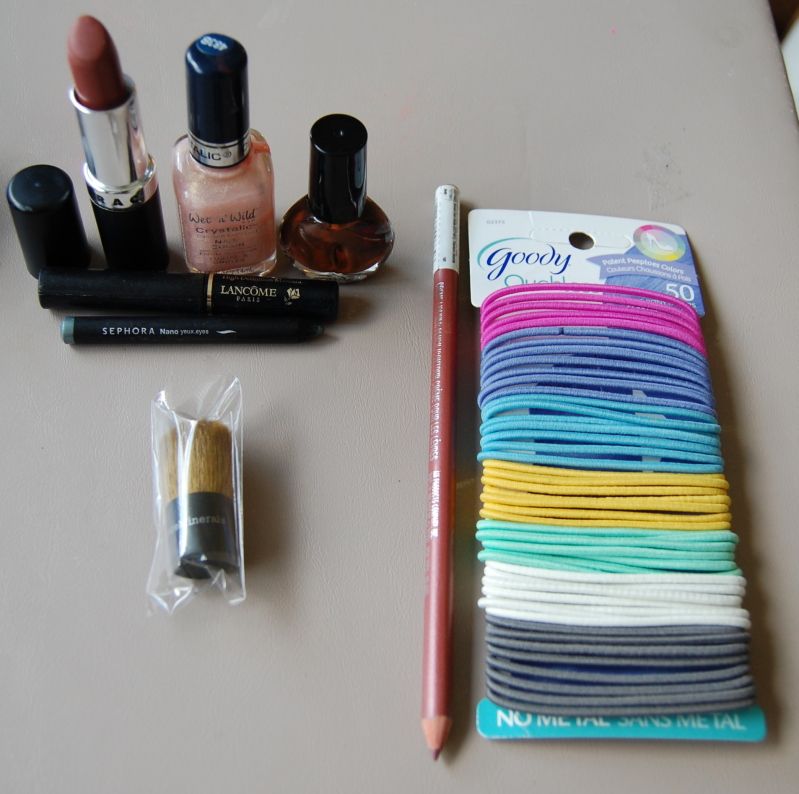 LORAC Lipstick $2 (include this with the Lip Lot price)
Wet n' Wild nail polish $.50
Sephora nail polish (Burgundy/brown) $1
Lancome mini mascara $1
Sephora Green nano eye liner $1
Bare Escentuals travel brush, unopened $.50
Lip Pencil $.50
Goody Ouchless hair elastics $1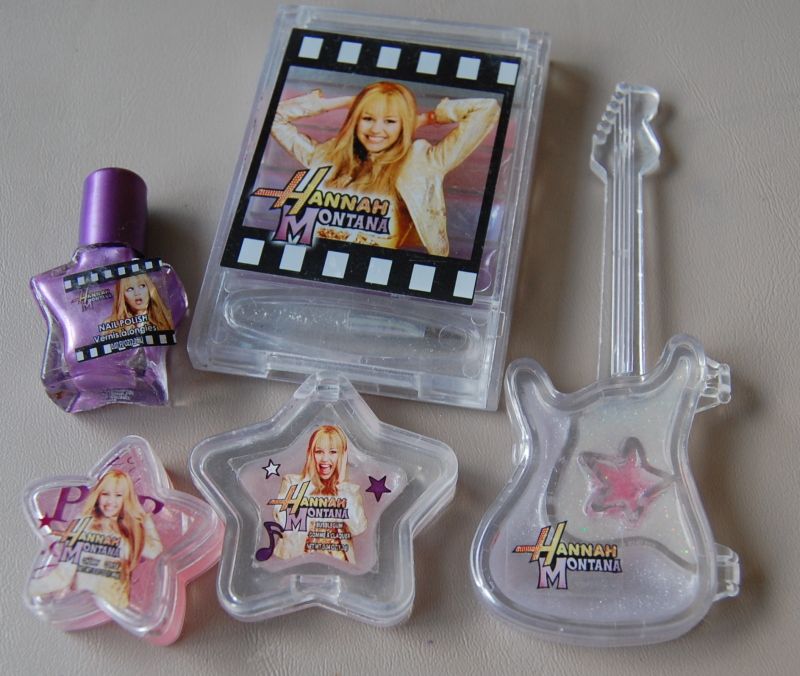 Hannah Montana lot gloss/polish. Some opened but none used. $3 for lot.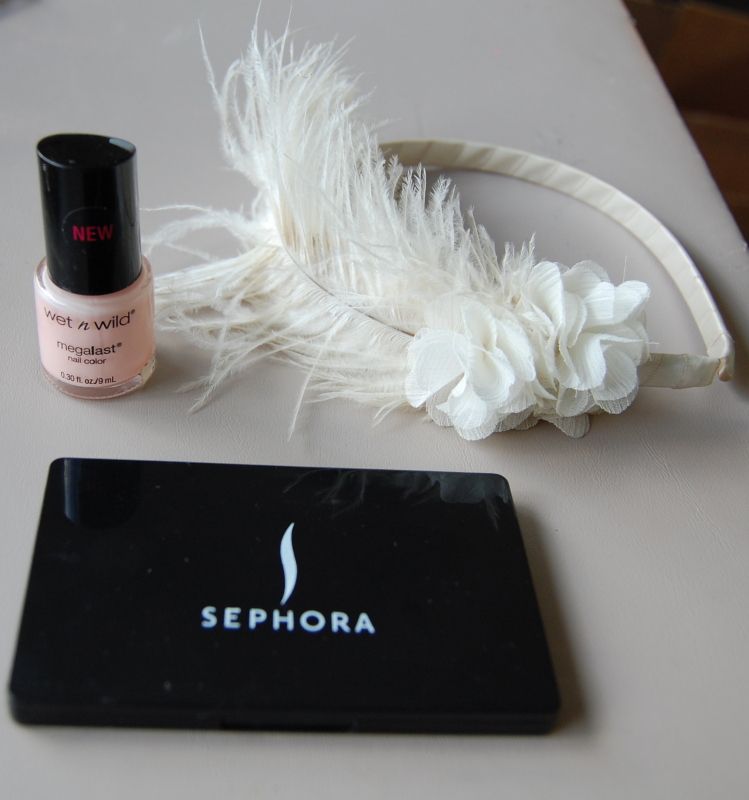 Wet N' Wild nail polish $.50
Headband with feather $1
Sephora travel mirror $.50.
$2.00 Lot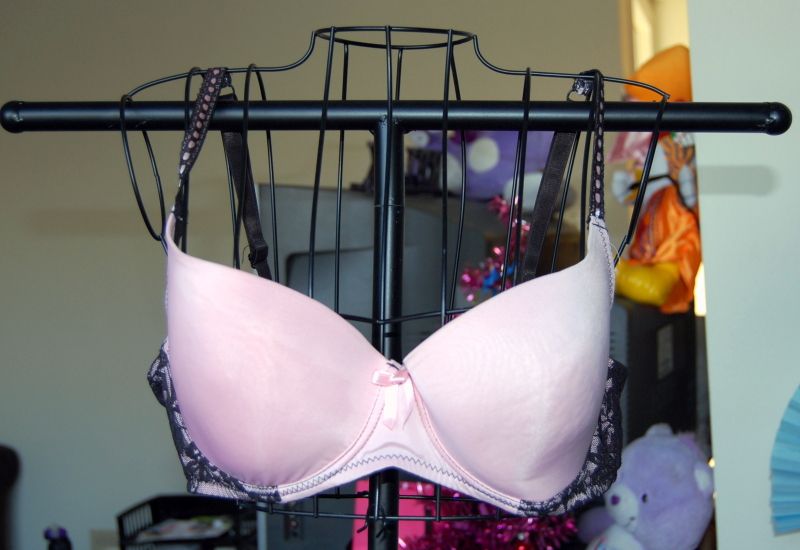 Pink foam bra with black lace straps. 36C. $3



Radio alarm clock. Supposedly it has the ability to yell at you rudely in order to wake you up (hence the Rude Awakening label) but I never figured out how to use that. The radio part works great, though! $3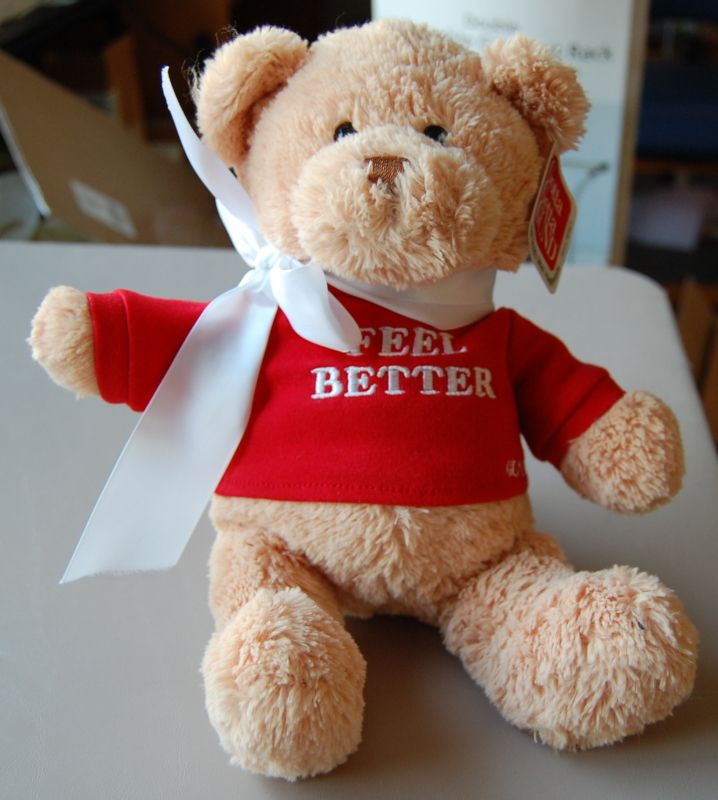 Feel Better bear! Soft and snuggly. $1